Our co-commission, supported by Phoenix Cinema and Arts Centre, is in full swing! The commissioned artists, Rianna Suen and Mariana Marangoni, have been sharing ideas, and experimenting with new forms over the last month. From creating writing toys, to exploring gameplay as gardening, their collaboration has led to some exciting and inspiring pieces. Below, Rianna and Mariana share their process so far and the games, poetic tools and digital repositories that have emerged.
We've been quite busy working away on this project during November. At the beginning of the month we discovered that we live five minutes away from each other, so we had lunch together at a local café to discuss ideas. After realising that we share a lot of the same interests and references, we settled on the idea of exploring digital literacy through the medium of poetry and code.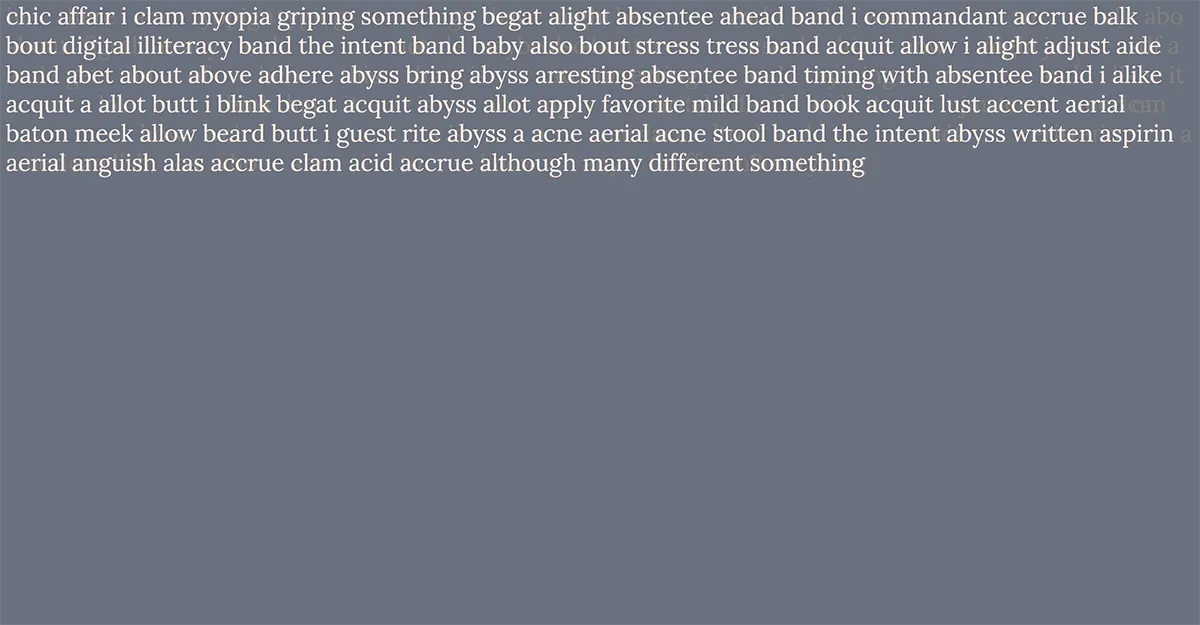 House of Rita is a text editor that helpfully and unhelpfully twists your words, either autocorrecting or replacing your word with a rhyming word.
It was built in p5.js (a JavaScript library for creative coders) with RiTa.js (a library for natural language processing for generative literature). p5.js is Rianna's tool of choice for creating interactive webpages, and the rest of the webpages we've made this month also use p5.js. If you'd like to learn more about p5.js, Rianna's written up a short course on learning how to code.
Bonsai Net is a collection of website hubs and communities that aren't Facebook, Twitter, Instagram, or YouTube. It takes the form of a branching tree that grows as you navigate it, where each branch is a category and each flower is a link to a webpage.
In the wake of the self-destruction of twitter, we're interested in exploring where else people live on the internet. Digital literacy is not what it once was. Gone are the days of writing your own GeoCities page in HTML. These days technology is built on layers of abstraction, where one line of code can break large swaths of the internet. Facebook's Free Basics, which offers access to a limited part of the internet, infringes on the principles of net neutrality. When Facebook or any other single website becomes your source of news, media and culture, you get fed a curated portion of the internet that comes in one biased flavour.
Bonsai Net seeks to prove that the internet is much larger than the Big 5, by offering a different selection of the internet categorised by interests. One of the sites listed is Ravelry, a community for knitters and crocheters that doubles as a pattern and yarn database. The website is built for crafters by crafters, and while it is a database, its' main aim isn't to suck users dry of all their personal data. Bonsai Net is, however, just another tiny slice of the internet, but hopefully it'll provide people with the knowledge that the internet exists outside of the bubble of the Big 5.
a forest is a walking simulator where words grow on trees and are carried by the wind. Stroll around your own personal landscape and plant words. The words you write may gain 'sentience' and start to form their own ideas around concepts such as digital gardens, alternative web communities and digital impermanence.
The piece uses Markov chains, in combination with a corpus of Mariana's writings, to predict and autocomplete the next word in the sentence. Mariana writes about Internet materiality, its ruins and failures, reflecting on the relationships that emerge after acknowledging that the web isn't an inextinguishable and forever-expanding digital realm, but a complex system that requires an inordinate amount of labour, infrastructure and resources to be maintained. Other works included in the corpus are Mariana's research excerpts on the figure of trees as theological metaphors, diagrams of thought and model for data structures that persist in present-day computation and Machine Learning systems.
As the project progresses, we would like to incorporate more complexity to it, thinking not only about its existence as a software, but also on its presence as a tangible artefact that changes and responds to the environment and the audience. Mariana is currently experimenting with plants and physical computing (raspberry pi and soil moisture sensors) to foster a poetic non-human collaboration, using the data gathered from their soil humidity as variables for the generated pieces of narrative in the website – interpreting their non-verbal existence as poetry in a process akin to what artist Rosa Menkman calls a "rheology of data" (2020, p.15).
We are looking forward to seeing which form the project will take in the upcoming weeks, as collaborative work – be it with humans or plants – always bring new and exciting surprises along the way. That being said, we welcome any feedback from you – feel free to leave a comment on the itch pages!
This co-commission is a process, so if you play any of the poem games, particularly a forest, please do leave feedback on how you felt, what worked, what you thought, on the game page, on our twitter, or in an email.
The co-commission programme continues through until January when Mariana and Rianna's work will be launched at an event as part of Poetry Games (National Poetry Library) remaining on display from the 11th to the 15th of January. The artists will share more from the process in December, so please do keep an eye on the project, either through our website (which has an RSS feed) or our itch page.
(The White Pube website has a great post about setting up RSS if you're curious.)